About Lawson Fuses
Who Are We?
Lawson Fuses plays a leading role in formulating fuse standards and specifications through its membership of the relevant committees of BSI, IEC, CENELEC, and other standards organisations. The company has sponsored and participated in many research and development programmes.
Lucy Group Acquisition
Lawson Fuses was originally founded in 1938 specialising in the design, development and manufacture of HRC low voltage fuses. Having been an independent business for over 70 years, Lawson Fuses was acquired by Lucy Group in 2018. The acquisition was part of Lucy Group's strategy of acquiring businesses in complementary industries to deliver long-term sustainable growth. Lucy Group shares Lawson's values of quality, customer service and engineering excellence.
The company moved to purpose built premises at its present location in 1960 and has subsequently expanded on both the original and adjacent sites. The present day modern facility comprises some 40,000 square feet of accommodation for manufacturing, research & development and customer service support.
Our Global Presence
For over 40 years Lawson Fuses have been exporting Low Voltage HRC Fuse-Links to over 50 countries including; Hong Kong, South Korea, Australia, The Middle East and Africa giving the brand a truly International presence whilst still maintaining its British heritage.
In 2020, Lawson Fuses moved its subsidiary in India from New Delhi to a brand new, modern manufacturing facility near Vadodara, close to Lucy Group's other manufacturing facilities.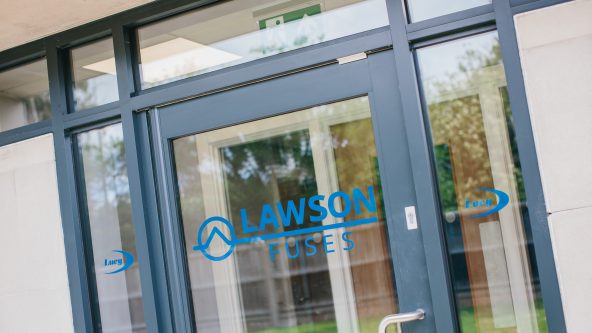 //= $url; ?> //= $srcset; ?>
1938
Lawson Beck Limited Founded
1944
'Pullcap' range of Fuse Holders Patented
1947
Joined UK Post-War Electrification program
1950
Company re-named Lawson Fuses Limited
1951
Semiconductor Fuse-Links developed
1960
Business moved to a Greenfield site in Ponteland, Newcastle
1964
Started direct supply to UK Utility companies
1977
First Copper Fuse-Link elements established
1979
Direct exports commence
1982
Company products ASTA20 certified
1989
Company accredited to ISO9001
1994
Company acquires Broadway Electrical and its range of Fuse Holders
1999
Registered on UK Utilities Vendor Database
2003
Lawson Fuses India established
2004
Lawson Fuses trademark registered globally
2015
First $1 million order from Kenya Light and Power
2018
Acquired by Lucy Group
2020
Lawson Fuses India relocates to Vadodara
UK test facility ASTA accredited to ISO17025:2017